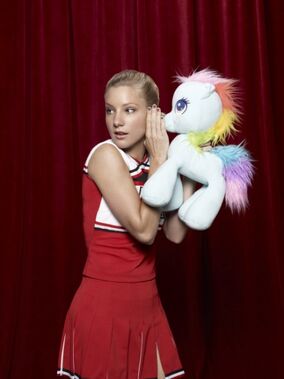 Brittany Susan Pierce is a character on the TV show Glee. She is a New Directions member and a Cheerio, who initially joins the New Directions to spy for Sue Sylvester, and was first seen in the episode Showmance. Brittany can be dumb at times. Brittany's surname remained unknown until Britney/Brittany, when her full name was revealed to be Brittany Susan Pierce. She was a recurring character in season one but was bumped up to a regular in season two. She is in a relationship with Santana Lopez in most of Season 3.
She is portrayed by professional dancer Heather Morris.
Gallery
Ad blocker interference detected!
Wikia is a free-to-use site that makes money from advertising. We have a modified experience for viewers using ad blockers

Wikia is not accessible if you've made further modifications. Remove the custom ad blocker rule(s) and the page will load as expected.